Engage for Success
A stakeholder is anyone who can make or break your organisation.
Engagement with your key stakeholders is therefore critical to your success. Effective stakeholder engagement will minimise risk, identify and capitalise on new opportunities, better address complex issues by generating new and innovative solutions and add value across a range of important dimensions. The challenge is to engage in ways that work for you and for them.
Partners in Change have developed a unique and practical approach to stakeholder engagement. Engage for Success is our unique one-day workshop that is offered through Victoria University Wellington and the University of Auckland Executive programme. It can also be run in-company.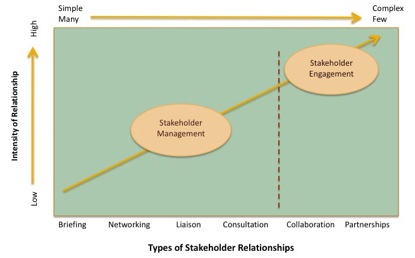 You Tubes
What is Stakeholder Engagement?
R Edward Freeman

What are Stakeholders?
Don Lenihan

on citizen participation.
David Butter

Stakeholder Management.
Articles and Books
Canadian Measuring the value of Stakeholder relationships
Back to Basics: How to Make Stakeholder Engagement Meaningful for Your Company 2012
Measuring the value of stakeholder relationship for business. Stakeholder Relationships, Social Capital and Business Value Creation 2003
Arnstein, Sherry R. "A Ladder of Citizen Participation," JAIP, Vol. 35, No. 4, July 1969
Greenwood M 2003 Stakeholder Engagement as Social (Ir)responsibility. Working Paper 1/04 March 2004 Monash University Business and Economics
Greenwood M 2007 Stakeholder Engagement: Beyond the Myth of Corporate Responsibility. Jr of Business Ethics 74:315-327
Pearman G 2009 Stakeholder Engagement and the NZ Tertiary Education Reforms; A sea change or the emperors new clothes.
Transforming Public Sector Engagement - Effective Digital Channels and Strategy Kahootz
Friedman A Miles S Stakeholders Theory and Practice Oxford 2006
The Idea of Engagement: Universities in Society. Association of Commonwealth Universities 2003
Unfolding Stakeholder Thinking, edited by Sandra Waddock et al. (Greenleaf Publishing, Sheffield, U.K.)
Androif J, Waddock S, Husted B Rahman S 2002 Unfolding Stakeholder Thinking Greenleaf Publishing
Austin J 2000 The Collaboration Challenge: How Nonprofits and Businesses Succeed through Strategic Alliances Jossey Bass/ Drucker Foundation
Lenihan D, T Barber, G Fox, J Milloy 2007 Progressive Governance for Canadians: What you Need to Know. Published Crossing Boundaries
Moore M (1995) Creating Public Value Harvard University Press